Accessible Screenings
We welcome enquiries from individuals or groups who are interested in any of our accessible screenings. 
Please get in touch via our box office on 01239 621 200 or email boxoffice@mwldan.co.uk 

Relaxed Screenings
(Autism friendly screenings)
What are they?
Autism-Friendly Screenings are subtly-adapted screenings which create an environment that is welcoming for people with a range of conditions such as autism, learning disabilities and cognitive disorders. They have sound levels turned down, the lights left on at a low level and there are no trailers at the beginning of the film. Film-goers are free to bring their own food and drinks to the cinema, are able to make noise and to sit where they feel most comfortable. Seats are sold on an unallocated basis for these screenings, and a quiet room is made available adjacent to the auditorium should anyone require to use it.
The next relaxed screenings will be:
For more information visit: http://www.dimensions-uk.org/support-services/autism-care/autism-friendly-screenings/
 
Subtitled Screenings
What are they?
Subtitled screenings provide a transcription of the audio from a film, displayed at the bottom of the cinema screen.  Along with the dialogue from the film, the subtitles include non-dialogue audio such as "(sighs)" or "(door creaks)".
Who can benefit from them?
People who are hard of hearing.
The next subtitled screenings will be:
Downton Abbey (PG) - Tuesday 15th October @ 8.20pm
Ad Astra (12A) - Tuesday 15 October @ 5.50pm
Shaun The Sheep 2 (U) - Monday 21 October @ 5.40pm
Joker (15) - Tuesday 22 October @ 8.20pm
Gemini Man (12A) - Wednesday 30 October @ 8.20pm
Ready Or Not (18) - Monday 4 November @ 8.05pm
Official Secrets (15) - Tuesday 5 November @ 8.20pm
Maleficent Mistress Of Evil (PG) - Wednesday 6 November @ 5.45pm
The Last Tree (15) - Tuesday 12 November @ 5.40pm
Terminator Dark Fate (12A) - Wednesday 13 November @ 8.00pm
Farming (18) - Monday 18 November @ 8.30pm
Please note, subtitling is not always available on all film titles.  Wherever possible we will endeavour to show at least one subtitled screening of those films that do carry subtitling.

Audio Described Screenings
What are they?
Audio Described screenings provide a pre-recorded voice commentary that describes features such as action, body language, expressions and movements during the film. The commentary fits within the silent gaps in a film, so it doesn't interfere with the dialogue. It is a separate soundtrack broadcast through wireless headphones which only the wearer can hear. Please speak to our box office should you require a headset.
Who can benefit from this facility?
Visually impaired people. For more information please visit: http://www.rnib.org.uk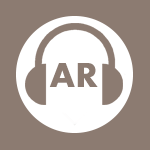 AUDIO REINFORCEMENT
Audio reinforcement is also available on all of our cinema screenings and live broadcast events.
What is it?
Audio reinforcement is a facility that amplifies the cinema screenings soundtrack via a headset. This works in place of your hearing aid. Please ask or box office for headphones if you would like to make use of this service.
Who can benefit from this facility?
People who are hard of hearing.
All of the films shown below carry Audio Description and Audio Reinforcement: